Les Pendleton
Represented by Jeanie Loiacono
Published by Deer Hawk Publishing
Susanne and Les Pendleton
"I'm a grandson of the Southland" Les Pendleton says, just like the Bellamy Brothers sung it. Being born in Newport News, Virginia, he has had salt water coursing through his veins from the get-go, with the love of sailing spurring him on. His multiple careers set him up for great story-telling, and one of which got his foot in the door of the movie industry. Dino DeLaurentis set-up house with his studio in Wilmington and through a chance meeting with an Art Director on a film being made there he was hired to help with the production side of the movie. This led to a twenty five year career making movies: Coming To America, Last of the Mohicans, Blue Velvetand Billy Bathgate. After over 50 films, he decided the sea beckoned, bought a sail boat and moved to New Bern. There the writing bug bit him and he was off on the adventure of a lifetime.
His autobiography Sea of Greed http://www.seaofgreedbook.com/ , which was written for North Carolina Court of Appeals Judge Doug McCullough, has recently been re-released by Deer Hawk Publications and the movie rights to it have been purchased by an established film company. The other autobiography, The Devil, Me, and Jerry Lee got very good reviews from all over the world and was the basis for a play in West End, London. That book was also credited for the resurrection of Linda Gail Lewis' career and led to her double platinum album with rocker, Van Morrison of "Brown Eyed Girl" fame.
---
Treasure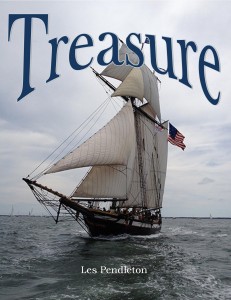 Amazon  B&N  BAM  Fish Pond  The Book Depository  Indie Bound  Wal Mart
Treasure is a story of high-seas mayhem, drug-smuggling Mexicans, and falling in love all over again.
When four friends, whose lives needed a vacation, end up in the Keys looking for mid-life adventure, they stumble upon a sailor named Bones seeking a crew to take out his 90 ft. schooner. Two weeks of nothing but horizon…
Unbeknownst to them, there is a clandestine reason for the trip; one Bones fails to honestly share until it all hits the fan. 'Treasure' mates, but not what he said it was.
---
The Seas Les Traveled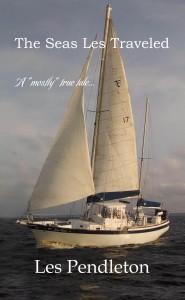 Published by Deer Hawk Publications
In the late 90s, Les was in a loveless marriage of 28 years, with two grown children who had moved out and on, and a job that was sucking the life out of him. After staring at the same page on the computer screen for two weeks, his boss shadows his shoulder and screams at him wanting to know why his work is late, late, late. He calmly tells him to go where the sun does not shine and walks out of his job, away from his home he labored decades to build and maintain, and into a new world; one that defined freedom.
He found refuge on his boat, Calypso, and, in one evening, took on a first mate, John, and unbeknownst to him, his mate for life, Essie – two of life's orphans….or so he thought.
Les takes us on one adventure after another on his quest to hit The Keys, and even on one that no one would ever expect.
---
The Sea(Quel) Les Traveled – January 2015
The Sea(Quel) Les Traveled is a continuation of Pendleton's adventure memoir aboard Calypso. Celebrity stow-aways, vicious ex-wife repossessions, drug-smuggling pirates, celebrity appearances, Northern mafia "friends" and a wedding in New Bern keep you turning pages.
Cappy and Essie are finally heading to the Keys, or so they think. Grimshaw begs to tag along, Cappy's ex-wife (who got everything he owned except his boat) has the Calypso repossessed until sold, the boat they buy to replace it, Last Dance, is high-jacked at sea by drug smuggling pirates and their only hope in seeing their dream come true is Vinny, a man they saved from being fish food when opposing thugs dumped him in the ocean. Vinny's "family" could have been the Corleones, which makes for grand appearances and final exits.
All this mayhem and madness, and still there is a wedding. Time for some Jimmy Buffett…
---
Widow Walk – July 2015
When a serial killer in Boston is getting close to getting nailed, he heads south to where he can find fresh victims, and be anonymous.
The Wind Trader'screw is head to the Caribbean and runs into a mighty squall. Taking refuge in Beaufort, North Carolina to do some needed repairs, two of their crew decide this is the place to dock for a bit. Alan, an artist, wants to paint and sell landscapes. Stephen, a handyman of sorts, takes to the little seaside town like a fish to water.
Alan falls in love with the operator of a little gift shop, Sarah. Then bliss is shaken to its core; the first of the girls stabbed to death and with "fear" carved into their chests is found in a meat locker. One after another, the coastal village loses a daughter, a wife or a girlfriend.
In the middle of this major homicide investigation, hurricane Emily bears-down on them, taking their focus…and possibly another life; not by Mother Nature.
---
Pride and Privilege – a Southern story with far reaching consequences. (January 2016)
In 1929, life as we knew it ceased to exist…in more ways than one.
Senator Dwight Morton lies on his deathbed. His adamant request is to speak with Oscar Phipps, a Pulitzer Prize winning journalist and editor of a Florence, South Carolina newspaper; a man he admires and trusts explicitly. He has some heavy information he has to get off his chest before it is too late, and Oscar is the man to handle it properly.
In this life, there are certain people who do the most unselfish acts of kindness and bravery – who put their lives on the line for others no matter what the stakes are… even unto death. Morton knew one such man, a young man who ended-up on the end of a lynch mob's noose.
As such a repeater history is, Morton dedicated his life to making sure no such act of horrific violence occurred again…if he could help it.
Little did Oscar know that over 60 years after that fateful night, the torch was to be passed to him.
---
Disintegration – July 2016
Virginia Industrial is a conglomerate of foundries and also the common denominator…
Dr.K has successfully demonstrated his skills with a scalpel and has taken pain to another level with one of VI's top executives.
Alicia Mencham is primary heiress to VI, her husband, Alan is CEO, and her sister Delores just happens to be a woman scorned who has had to play second fiddle for too long and was left with much less when Daddy died. Burns is a double-crossing right arm to Alan and will side with whoever the winning team is led by.
All this is about to change when the next victim happens to be Alicia…but she won't be the last.
Loiacono Literary Agency is not responsible for the scheduling of authors, negotiations, or fees associated with the speaking engagements. You may contact the author directly to check availability@ beginagin8@aol.com .